This is the complete translation of George Michell's "The Hindu Temple, An Introduction to Its Meaning and Forms", 1977, Harper and Row, New York. The author, Australian-born George Michell, is now the most energetic historian on Indian architecture. After graduating the University of Melbourne, he went to the School of Oriental and African Studies of London University, studying Indian and Islamic architecture, and received a doctorate. Since then, he has been vigorously writing and publishing many books, such as the following;
- Architecture of the Islamic World, (ed.) 1978, Thames and Hudson, London
- Brick Temples of Bengal, 1983, Princeton University Press, Princeton
- The Islamic Heritage of Bengal, 1984, Unesco, Paris
- The Penguin Guide to the Monuments of India, vol.1, 1989, Viking, London
- The Vijayanagara Courtly Style, 1992, Manohar Publications, New Delhi
As he was originally from the field of architectural design, he has a posture to pursue the form and space themselves of buildings rather than taking a documentary approach. Although this volume is one of his early writings, it is still valid as a concise general compendium of Hindu temple architecture. The University of Chicago Press reissued it in 1988, probably because it directed its attention to the usefulness of the book as a textbook in colleges of oriental study.
The distinctive feature of this book is that it expends a large number of pages for the outline of Hinduism and the meaning of the Hindu temple before the architectural description. For a book on Christian architecture, it would not need to commence with delineating religious tenets and history, but for the architecture of a religion like Hinduism, which is unfamiliar to Europeans or Japanese, unless there is a preceding description about the religion, architectural characteristics based on that could not be well understandable.
What is interesting above all is the chapters of three to five, which cover the ways of operating and erecting Hindu temples. Conventional books on Hinduism or architectural history have omitted these matters, from which we can get the living aspects of temple architecture rather than its simple history and doctrines.
However, this book, being not so voluminous and to boot using many pages for those matters before architecture, becomes slightly quick in pace to describe the total history of the abundant content of Hindu architecture, including not only Indian but also Southeast Asian. Although it sounds somewhat lacking in detailed statements of each region and history, as this is an introductory handbook of Hindu architecture, we should expect his next book for more minute discourses.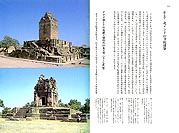 Page Sample
In Japan, this is the first book on Hindu architecture centering on India. Despite the increase of travelers abroad, it is still rather rare to make a journey to India. Now that Europe and America have become not so yearned for in the world, it seems interest in Indian culture is growing, especially among younger generations.
As it is important to show accurate, beautiful photographs of Indian architecture to people, not familiar with that, the translator added 26 color photos of Hindu temples of his own,to this Japanese edition through 16 pages with the consent of the author, because the original English edition has only black and white plates.