This is a second house of the owner of a small real estate company. Though the building site was large, most of it was a precipice, not leaving extensive flat land suitable for a house. As a city precipice-regulation is applied to the flat space under the precipice, the building had to be made of concrete.
The plan is geometric, putting three cubic units of five meters square base in line. The eastern cube includes the entrance, kitchen and bathroom, the central cube is the living room, and the western cube includes the bedroom and storages. The living room is a symbolic space with a hemispheric ceiling, on top of which is an acrylic round top-light.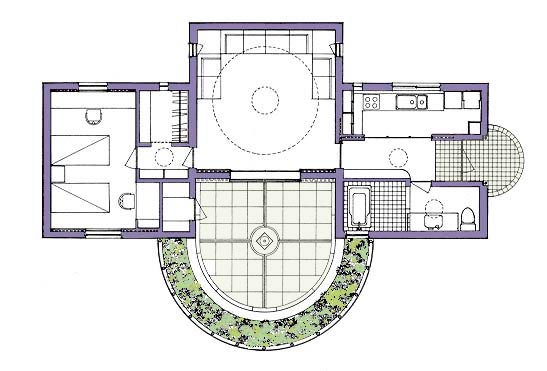 Plan
The central cube is set back by two meters to the north, and its southern side forms a courtyard surrounded with a semi-circular curved bench, a flower box and a frosted glass screen. At the center of the patio is a white marble basin, from which a small fountain spouts water with a pleasant small sound, like an Islamic tranquil garden.
By putting away the sliding glass doors, net screen doors and shoji in a hidden door pocket of either side, the living room and the patio are united as one, one freely go in and out. In contrasting the living room as a white space with a white carpet and white sofas, the bed room in the western cube is blue one like the bottom of the sea with a blue carpet, blue walls and blue-green ordered beds.
On the other hand, the outer side of the dome is finished with golden mosaic-tiles over the white tiled walls, shining under the sun like a building in a dream, along with white tiled walls.


Living room to Patio   bedroom
---