A ramshackle wooden house was rebuilt to three-story reinforced concrete house at a quiet college area on a hill.
A ramshackle wooden house was rebuilt into a three-story reinforced concrete house in a quiet college area on a hill. The owner, who had once been an avant-garde artist, has become a professor of philosophy and aesthetics at a university. The celibate independent man dared to want a three-storied house, despite the site being extensive enough to build it in a single-story, the reason of which might have been that the speculative spirit of his inner recesses was severed from the dwarfish earthly world.
The contrast between the making a quadrangular tiled terrace with a glass roof, ended with a concrete wall on the south, and leaving the inmost arm of the L-shaped site as a non-artificial garden with earth and natural vegetation, was also a request from the philosophizing spirit.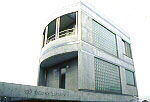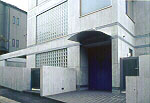 The building is overall a compact mass of exposed concrete, on the surface of which some lines of metallic silver tiles mark each story. A concrete beam between two silver lines over the first story extends to the south-end wall, rims the terrace in the air as a regular half-exterior space.
On the opposite north-side of the house, large-sized panes of glass are fixed top to bottom on the north wall of the staircase to enjoy the view looking down the valley-like landscape. As for the road-side facade, glass-blocks are fixed on a large window of each floor, making the whole facade into a continuous massive wall. The brilliant violet-colored entrance door under a stainless-steel canopy expresses the identity of a 'thinking reed' in the monotonous world.