A COMPLICATED TEMPLE at BACHHONCH
Leaving Ranpur early in the morning, our jeep turned away from the national highway and went to the south, on a forest road full of deodar trees, towards Rohru. From Rohru to the last town, Shimla, through Shimla district, was a journey that showed the most various fruits of wooden architecture, along with the Kullu region. Prior to Rohru, I first visited Bachhonch to see its peculiar temple enshrining Baoindara Devta (god).
As I have mentioned before, wooden temples in the Himachal region are classified under four types, the Gable Roof type, Multi-tiered Tower type, Compound type, and Square Tower type. Nevertheless, as the state of Himachal Pradesh, the area of which is 1.3 times as large as Kyushu Island in Japan, has several hundred or more than a thousand temples, many temples cannot be fitted into these classifications. The Bachhonch Temple is one of them, showing an unexpected, peculiar form.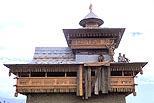 Repairs to the Baoindara Devta Temple, Bachhonch
Though overall it is a Square Tower type temple, its square 'Dhol-maide' tower, with horizontal timbers inserted into the masonry walls based on a rectangular plan, is surprisingly surmounted off-center by a small Compound type wooden temple building. The Compound type is a temple of a Garbhagriha (sanctuary) of the Multi-tiered Tower type connected with a Mandapa (hall) of the Gable Roof type, regarded as a wooden version of a stone Shikhara style temple in the Indian plain.
Since such a composition makes an imbalance, putting the center of gravity to one side, the architects placed an entrance balcony on the other side and added outer steps to it, making up a quite admirable formation.
It is enigmatic as to why they made such an unprecedented composition, as this site was not a fortress in the first place and there was absolutely no need to raise the temple so high. Did they spend such a huge amount of time and money piling up this much stone only in order to satisfy their desire to realize an artistic formation? Moreover, why did they force people to go up and down the steps each time they wished to worship the god?
Although the temple is said to have been first built about 500 years ago, the current building is not so old. As wood decays through exposure to the elements, a wooden building is repaired or reconstructed at least once in every several decades.
When I visited, the temple was just in the midst of being repaired, replacing all rotting blackish wooden parts with new ones and re-roofing completely.
During each past repair, wooden parts would have undergone some change, even if stone parts would have been remained intact. There is a possibility that the Multi-tiered Tower of Bachhonch Temple might not have built at the outset.


DESIGN TREND in NEW TEMPLES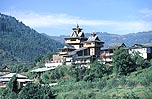 Newly constructed temple, Pujarli No. 4
Temples in the Himachal region are not simply remains of the past. Thanks to the living religion of Hinduism, old components of temples are constantly maintained, new buildings are added, and even new temples are constructed. The development of technology and the economy usually guide temple architecture into more decorative directions.
Among recently built wooden temples, one can see temples stranger-looking than the Bachhonch Temple, appearing one after another.
Penetrating approximately 17km deeper into the western mountains from Rohru, I found an extreme example of that kind. When the temple at Pujarli village came into sight, I was quite astonished by it soaring as if it were a brilliant castle keep in a splendid shape.
The Brahman who guided me in the compound said that the temple had already existed when his ancestors migrated here in the 18th century, so the temple has a history of at least 300 years.

Top part of new temple, Pujarli No.4
While the oldest shrine is a single story building of the Gable Roof type, the newest shrine, which was reconstructed just the previous year, has a singular figure, which does not fit into any classification. It might have originally been a pair of square towers standing in parallel (one of which was a Bhandar?) but their wooden superstructures have exceedingly intricate roof, to an extent as far as one can imagine.
Such a dazzling formative tendency towards sculptural superfluity must reflect the taste of current Himachal people; I cannot help but shudder when imagining how the temple will be gaudily painted in full color in the near future.
On the other hand, as well as from artistic desire, the temple form can also be transformed due to the economy. About 7 km from Pujarli, across a valley, is the village of Narain, where I found an example of this in the Narayan Devta Temple that had also just been renovated.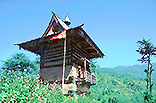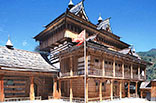 Old temple of Square tower type and rebuilt new temple
While the old Square-tower type temple at Narain, now unused, has a simple but forceful expression with boldly protruding eaves, the new temple has a tender formation with far more intricate lines. Closer inspection taught me that no stone is used in the walls of the extended building, being entirely made of wood. Because of the higher cost of stone than wood here, villagers cut down on expenditure.
Since, in the same manner, thick beams are not used, they made a line of columns stand on the edge of the cantilevered upper floor, just like poor buildings in American westerns in the age of development. The difference in artistic effect between the old and new temples is quite obvious.


KOTKHAI FORT near SHIMLA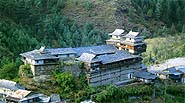 Bird's eye view of Kotkhai Castle
Our last destination was Kotkhai, a village near Shimla, the starting point of our circular journey in Himachal Pradesh. There is a wooden castle fort of a small princely state here, in which a descendant family still lives. As opposed to other castles that I had already encountered, this castle did not have a square tower but a double-headed tower building instead, so to say a Himalayan version of the Notre Dame in Paris, soaring in front of the square.
The castle is a vast continuous building enclosing a long and narrow courtyard, standing wholly on three storied heavy masonry walls. The basement-like windowless rooms inside the stone walls would have served as prison cells in the past.
It is strange that the top rooms in the gambrel roofed twin tower had windows only on the courtyard side, but are closed toward the square. They do not seem to have been watchtowers in case of wars.
Incidentally, it is a building so familiar to us Japanese, as its slated roofs, looking like Japanese tiled roofs, have concave curves and, moreover, gambrel roofs, letting us imagine that there would have been such forts even in Japanese villages in the medieval period.
In a salon-like large timber room, to which the present head of the family guided me, every part of the walls and ceiling was carved meticulously in the form of naïve folk art.



Courtyard and wood carvings in Kotkai Fort
Though this is not a temple, I wonder how long such traditional wooden architecture and sculpture can survive hereafter. Even in the mountainous regions with inconvenience in transportation, people's taste will change rapidly in the age of surplus information through television, Internet, and social networks and their affection for their time-honored culture may fade away.
As hundreds of wooden temples are not preserved as cultural treasures, they alter their semblance little by little every year. Even so, many of them retain the indigenous architectural tradition. The reason might be the intense faith to the religion by the people living in the villages in Himachal Pradesh.