WOODEN TEMPLES of the GABLED ROOF TYPE
Himachal Pradesh means the state of snow-covered mountains. Everywhere is mountainous, divided into small areas by deep gorges and high ridges of some thousand meters of altitude, causing great obstacles to transportation. Therefore there are cultural differences between those areas. As there are many villages that are impossible to access by car even nowadays, there could be temple architecture unknown by the outside world.
We examined, in the former chapter, the Himalization of stone architecture brought from the Indian plain, here I will treat the native wooden architecture in the mountainous areas according to its typical types. However, as it has not yet been fully studied nor surveyed, I regretfully cannot insert measured drawings.
As quintessentially seen in the village of Barmaur, houses are generally made of wood with a sloping stone slate roof due to much rain and snow. In spite of the difference between slates and tiles, the scenery of Himalayan villages reminds us of Japanese old-time mountain villages.
As temple architecture commonly develops from the form of folk houses, the figure of a small temple is not so different from that of a folk house. Therefore, the oldest and simplest temple type in this region is a single storied structure covered with a gabled roof, which was first called 'Challet' type because of its resemblance to mountain huts in Switzerland. This was a nomination by A.F.P. Harcourt who first classified wooden temples in the Himalayan region.
The three temples in Bharmaur, Chatrarhi, and Udaipur, treated in the former chapter, were all of this type, but through the lapse of more than 1,000 years, they have lost their original external appearances.
___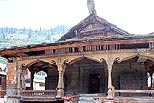 Barmaur Village & Sandhya Gayatri Temple at Jagatsukh
Sandhya Gayatri Temple in Jagatsukh, one of the oldest wooden temples with the exterior view of the 'Gabled Roof Type,' has an inscription from the year 1428. Its Garbhagriha (sanctuary) and Mandapa (hall) are walled of stone but surrounded with a wooden open colonnade. The temple is crowned with a large 'gambrel roof,' a kind of gabled roof or gabled hipped roof, supported by a line of outer timber columns and the stone wall.
The carvings on the columns are quite naïve; carved men and animals remind us of Oceanian sculptures and the abstract patterns of Celtic designs. The style of those carvings is the fundamental folk art of Himachal Pradesh. The large brackets spread to the left and to the right are remarkable, with swirls on both sides, which could be a vestige of the capital of the Ionic order brought from Kashmir.
This Sandhya Gayatri Temple is also called Sandhya Devi Temple, dedicated to a goddess (devi), and most Himalayan Hindu temples enshrine goddesses. As Hinduism is a religion that has gained supremacy in most parts of India by absorbing various regions' folk faiths and assimilating local religions, the goddess in this temple must also be a Hinduized native local goddess, in the same process as the local religious architecture was Hinduized.
Sketch of a wooden temple at Chergaon by William Simpson (From "Architecture in the Himalaya" by William Simpson)
W. SIMPSON'S EARLY SKETCHES in the HYMALAYAS
The earliest persons to begin researching Himalayan wooden architecture were A.F.P. Harcourt and William Simpson (1823-99), both British. The latter was a watercolor painter, leaving numerous sketches from his journeys to the Himalayan region in 1860 and 1861, and later publishing a fine report in the Transactions of the Royal Institute of British Architects. It was more than 100 years ago, in 1883.
James Fergusson, the first author who systematized the history of Indian architecture, quoted Simpson's report in his book, describing one of his sketches as quite 'picturesque.' It is the famous sketch, showed above, of the temple at Chergaon.
When told this is a piece of Indian architecture, those who do not know Himalayan architecture might not readily believe it. Those who are well versed in European architecture will be astonished that this temple strongly resembles Christian wooden churches found in Scandinavia. However, there cannot be any direct influential relationship between the Himalayan region and Scandinavia at such a great distance geographically. Such elements as sloping roofs due to frequent rain, wooden structure thanks to abundant timber, and symbolic designs with a spire as religious buildings, engendered common characters to both.
Though this temple at Chergaon is famous through Simpson's sketch, a photograph of it does not appear in any book, as if it does not exist nowadays. I found its brother temple, the Maheshvara Temple, of almost the same design, among the mountains near Sungra in the northeast of Sarahan.

Maheshvara Temple, Sungra
The temple with its back to a deep ravine impressed me unforgettably. It is much larger than one would imagine through photographs and it astonished me by the fact that its complicated roofs are totally made of plain timber and are not covered with any roofing.
Non-Hindus cannot enter the temple, but it is likely that a Linga symbolizing Shiva is enshrined in the sanctuary. The wooden panels of the outside walls are carved in relief, quite different from classical sculptures in the lower Indian plain, giving a primitive impression.
It indicates that this is another architectural style, native to the Himalayas, existing from before the advent of Indian classical styles from the lower plain. Harcourt called this temple style the 'Pagoda' type.
The word pagoda was used mainly by the British in Burma, indicating a stupa. By enlarging its meaning, Buddhist towers of three or five stories in Japan and Shikharas of Hindu temples in India were sometimes called pagodas too. The origin of the word is unknown, so it is more suitable to call it a 'Multi-Tiered Tower.' As a gabled roof type temple is not much different from an ordinary house, the roof was developed to have been multi-tiered, looking to take more symbolic form as a religious building.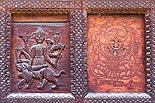 Wooden panel of Maheshvara Temple, Sungra
WOODEN TEMPLES of the MULTI-TIERED TOWER TYPE
It was regrettable not to have been able to visit the temple founded in the 14th century, which is regarded as an archetype of the temple at Sungra, by the side of Lake Parashal at the altitude of 2,600m; part of a mountain road collapsed owing to heavy rain the previous day. However, there are some temples with a similar three-tiered roof scattered in the Kullu Valley.
Going into mountains from the town of Manali, which is located at the end of the Beas River Basin, one reaches the Hidimba Devi Temple at Dhungri village surrounded by solemn cedar forest. It is said that this temple was first built by King Bahadur Singh in 1533. It is crowned with a three-tiered timber roof at the height of 24m. The conical roof on the top, which has been replaced by galvanized iron roof, seems to have been added in later ages.
The part most worth seeing in this temple is the first floor wooden façade with a portal and windows densely embellished with carvings of gods, goddesses, and animals. Though lacking large statues of guardian gods, every part is partitioned quite methodically into compartments and is carved meticulously. The main deity Hidimba in this temple is Rakshasa, who appears in the "Mahabharata," and is regarded as a guardian goddess of this region.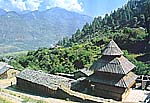 ___


Tripurasundari Temple at Naggar
The Tripurasundari Temple at Naggar, a slightly smaller version of this temple, is said to have taken its current form in the 15th century. In spite of high durability, cedar can also be decayed by the elements and the temple was reroofed and reconstructed many times. Most recently, it was reconstructed in 1960 and 1990, each time showing a pure appearance of plain wood in every detail, just like the Ise Shrine in Japan, which is reconstructed every 20 years.
When the author visited the Tripurasundari Temple in 1991, its timber roofs and animal sculptures (lions on the first tier and monkeys on the second tier) were entirely undamaged. The whole temple merged into the surrounding mountainous landscape, making an excellent harmony.
The three-storied tower at Diyar (Dhiyar) Village, the Triyuginarain (Tirygi Narayana) Temple, is roofed with slates, but originally it was most likely timber roof. Its walls on the first floor are made of alternate layers of piled timber and stone, with tiny windows. In the somber interior, a sacred palanquin for festival processions is placed at the Mandapa in front of the sanctuary.
___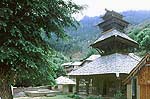 Triyuginarain Temple at Diyar & Adi Brahma Temple at Khokan
In contrast, there is a four storied tower at the Adi Brahma Temple at Khokhan Village. As a Mohra (sacred mask) set inside has an inscription of the year 1746, during the reign of King Tedhi Singh, the temple itself is thought to have been built at around that time.
However, it seems that there had been a much older stone temple from about the 11th century here, from which many fragments of its carvings have been excavated. Probably this Shikhara-type stone temple from the Pratihara Dynasty was reconstructed in its current native wooden temple style.
Its form of four storied tower is rare, and furthermore its gambrel roof on the top, instead of a conical roof, is quite singular.
There are various views about whether this type of Multitiered-Tower was brought directly from Nepal, or if it was brought simultaneously from the Gupta Dynasty in the Indian plain during the 5th to 7th centuries to Nepal and Himachal Pradesh, especially to Kullu Valley. Because no old wooden temples remain in the lower plain, it has not still been elucidated.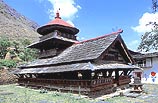 Mahadeva Temple, Behna
THE COMPOUND TYPE of GABLED ROOF and MULTI-TIERED TOWER
In the area from Shimla, the capital of Himachal Pradesh, to the southern Sutlej Valley, one can see a lot of temples that combine the Gabled Roof type and the Multi-Tiered Tower type. A traditional Hindu stone temple in the Indian plain basically consists of [Garbhagriha+ Mandapa] (sanctuary + hall) with a towering Shikhara over the sanctuary enshrining a statue of a god. A temple which replaces the Shikhara with a wooden Multi-Tiered tower and makes the Mandapa a Gabled Roof type, is just this 'Compound type' temple.
The before mentioned temple at Sungra is a kind of this type, but its two storied Mandapa is exceptional.
Although the Mahadeva Temple at Behna is one of the most well-known representatives of this Compound type, I was disappointed by the damage it had undrgone, when I visited it. As opposed to its old photographs, in which it was all roofed with plain timber, its roof has now been replaced with galvanized metal, painted red, at the conical top tier, and with slate at the lower two tiers.
Its interior is different from the temple at Sungra, in that only the Garbhagriha is walled up and the Mandapa is open.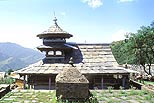 ____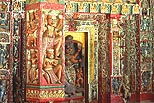 Durga Temple and its colored interior, Manan
The Durga Temple at Manan has the same composition as the temple of Behna, except that the roof is concave like folk houses in this region. While this concave curvature of roofs will be treated in the next chapter, the Mandapa's primitive wooden carvings in both temples display a kitschy power, entirely painted in full color.
In addition, despite the appearance of a room on the upper floors in both the Multi-Tiered Tower type and the Compound type, there is actually no entrance and their windows are nothing but embellishments, without even a stairway to get there. This indicates that the whole tower is a decoration, showing conspicuously that the tendency of Indian people who love sculpture (more than architecture and painting) and are prone to make even buildings as sculptural works, exists in the Himalayas too.