I found an interesting episode in a book recently translated into Japanese: "Recollections of a Historian of Ideas" (*1) by Isaiah Berlin, a prominent British historian. Once he was invited to India to talk with Nehru, the Prime Minister at that time. Jawaharlal Nehru, a graduate of Cambridge University, had been the first Prime Minister since the independence of India and was respected internationally as a leader of the Non-Aligned Movement (NAM).
When Japan became a topic of their talk, Nehru said: "The Japanese were militaristic, imperialistic, Fascists, who did terrible things in the war, and yet when I went to Japan, I felt they were brothers."
Even though he had often lived in England since a young age and had many British friends, he, as an Indian, still couldn't eliminate the self-consciousness of being looked down upon by Europeans, he said.
Then, do we Japanese think of the Indians as our brothers? It would be presumably rare. Rather it seems that current Japanese think of Americans and Europeans as their brothers, unconsciously disregarding Asian people. This is the result of the attitude 'Quit Asia and Join Europe' since the Meiji Restoration and the Americanization after World War II.
We have been familiarly associating with the Western Christian Civilization, while we have been estranged ever since from the Asian Hindu and Islamic Civilizations. We have been dismissing the culture of Jainism in spite of the fact that it is a sister of the Japanese predominant religion, Buddhism, both of which were borne in almost the same time and in the same region in India. However, when seeing degenerated Japanese Buddhism, Jainism looks to me like a far more conscientious and superior religion.
So far as it is concerned solely with the religion, it is quite unnecessary to treat it in an architectural magazine. However, Jainism had also achieved in temple architecture so excellent a quality that I wrote a serial essay about its history, variety, and essence. Even if I didn't feel a brotherly affection to Indians as much as Mr. Nehru, I was extremely sympathetic and interested in the ideology of Jainism.
There were also some intellectuals in Japan who rated Jainism highly. One of them is the recently revaluated naturalist, Kumagusu Minakata, who wrote "Jainism is superior to Buddhism and Christianity in respect of esteeming lives of not only human beings but also animals and plants however tiny they are." But it is in recent days that his writings became widely read, it was not due to him that I became acquainted with the religion of Jainism.
Though the young generation of these days may not even know the name, but the students in the age of campus struggling throughout the country around the late 1960's read eagerly the works of Kazumi Takahashi (novelist and also scholar of Chinese literature) along with Taka-aki Yoshimoto (poet and also philosopher) and Yukio Mishima (novelist who committed suicide by hara-kiri).
I also read entire novels and essays written by Takahashi, who passed away while still in his late 30's of cancer. This novelist of "The Gloomy Faction" had often professed himself to be a Jaina.
It was under the influence of his mentor on literature, Yutaka Haniya (novelist and also philosopher), that Takahashi called himself the only Jaina in Japan (half as a joke). Haniya, whom I suppose the supreme philosopher in modern Japan, continues to write his great novel "Shi-rei (Spirit of the Dead),"(*2) which he commenced immediately after World War II. Although he is so old that he may not be able to complete the work, he had previously announced, in the preface of the first volume, the nucleus scene in the last chapter of this novel.
It is a vision told by the protagonist; Buddha attained spiritual enlightenment under a bodhi tree in ancient India, and then recalled the preceding awakened sage, Mahavira, the founder of Jainism. He went all the way to the cave in a rocky mountain where Mahavira was meditating and engaged in a dialogue with him.
This dialogue turned into a doctrinal discussion, in which Buddha was defeated by Mahavira. At that moment the body of Mahavira fell to pieces to be reduced to ashes. Hereupon Buddha is the representative of 'actual being' and Mahavira is the symbol of 'nonexistence.' The 'nonexistence' wins a victory in the theoretical dispute; nevertheless it is always the side of the 'actual being' that survives in the real world.
Yutaka Haniya was highly attracted by Jainism that ponders things thoroughly and extremely in large contrast to the Japanese cultural climate that is prone to let everything end vaguely and ambiguously.
It is the ethical code 'Thou shalt not kill' that remonstrate people to kill each other. By being faithfully consistent to this principle, one cannot only kill humans but also eat animals or even plants by means of taking their lives, feeling that the system as 'a life cannot survive without killing another life' must be contradicted.
Such an attitude as to consider matters to the radical fundamentals would have brought a deep sympathy to the inclinations of Yutaka Haniya, who had been looking for the 'revolution of the existence.'
On the occasion of quitting the architect's firm which I had worked for 18 years ago, I planned to take a 'grand tour' for three months. I chose India as the destination, resolving to visit the sacred places of Jainism more than anything else. So long as Yutaka Haniya and Kazumi Takahashi acknowledged that religion so valuable, I wanted to go around its temples, even if they are not so valuable architecturally.
Although there were few materials about Jainism and its architecture in Japan, I visited as many Jain Tirthas as I could know, finding them excellent on the contrary. I was fascinated by the temples of Mt Abu and Jaisalmer, then amazed by the temple-cities of Shatrunjaya and Girnar hills. Above all I got an overwhelming impression of excitement in the Adinatha Temple at Ranakpur. I wanted to know how this temple architecture came into existence and decided to write a book in due course after having studied it. This is the origin of my relationship with Jaina Architecture.


"Recollections of a Historian of Ideas (Conversations with Isaiah Berlin)" by I. Berlin and R. Jahanbegloo, 1991, Scribner, New York

"Shi-rei (Spirit of the Dead)" by Yutaka Haniya, 1980 (vol. 1) -1986 (Ch. 8), Kodansha
Yutaka Haniya passed away on February 19, 1997, without completing "Shi-rei."
MUKTAGIRI HILL * (M) JAINA TEMPLE CITY *, since 18c.

Unlike most temple cities existing on the summits of mountains, the temples here are located in a valley, so that, along with the verdant mountains, it gives an impression somewhat like Japanese scenery. This beautiful landscape might evoke an image of paradise for Jains. However, individual temples are not of high quality and their styles seem to deviate to varying degrees from the mainstream tradition.
It is possible to go there and back from Nagpur in one day, taking three and half hours by express bus to Amraoti and two hours further by car.


---
ELLORA **** (M) CAVE TEMPLES ***, (+S) 9c.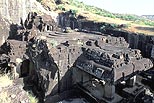 The masterworks of Jaina cave temples exist in Ellora. They form a Jaina group about 1km away from the end of the line of Hindu caves. Their interiors are elaborately carved with great skill and proliferation.
Most tourists start to go around the numerous cave temples at the Buddhist caves, and are so tired at the last Jaina group that when they see them, they are in a hurry to finish. People who are particularly interested in Jaina art had better reverse the order. It is a one-day trip from Aurangabad by bus or taxi. As it is a famous tourist spot, there is a restaurant at the site.

** See Chapter 2 for details of Jaina Cave Temples at Ellora.
---
AIHOLE ** (K) CAVE TEMPLE, 6c. & MEGUTI TEMPLE *, 634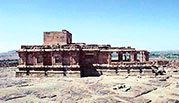 Even though the current Aihole is a small village, it is quite important as one of the cradles of Indian medieval architecture. Even though most of the dozens of ancient structures belong to Hinduism, the Jain cave and temple are the oldest. The unfinished cave interior is delicately carved even on the ceiling. The Meguti temple on the hill shows a stage en route to establishing the Southern-style. Regrettably, its upper structure has been lost.


---
PATTADAKAL ** (K) JAINA TEMPLE *, 9- 10c.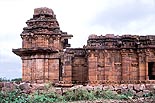 Only one Jain temple stands here away from Hindu temples. It is a relatively plain work without sculptures on the walls. Pattadakal is located on the way to Aihole from Badami, 25km tofrom Aihole and 30km from Badami. There is a tourist bungalow in Aihole, but it seems better to visit on a one-day trip from Badami.

** See the chapter of 'Pattadakal' forHindu Temples at Pattadakal.
---
BADAMI *** (K) CAVE TEMPLE No.4 *, since 6c.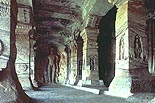 Badami is a beautiful spot. The town faces one side of a small lake, the other three sides of which are surrounded by red sandstone hills. Many temples and caves lie scattered on the hills. Only one cave temple belongs to Jainism and a statue of Tirthankara is sculpted in relief inside.
The town is 3km away from Badami Station on the railway. In spite of the rich architectural heritage, there are not many tourists due to the inconvenience of both transportation and lodging.


---
HAMPI (VIJAYANAGARA) *** (K) HEMAKUTA TEMPLES *, 10- 14c.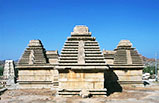 In the city of Vijayanagara (now called Hampi), the capital of the last Hindu dynasty in Southern India, there are some Jain temples among the abundant Hindu temples. Those on Hemakuta Hill seem to have belonged to Hindus at the time of their foundation. They retain an ancient architectural style that is simpler than the Baroque-like Vijayanagara Style.
The whole site of this ruined city, 13km from Hospet, is too vast to walk around in one day.


---
LAKKUNDI ** (K) BRAHMA-JINALAYA TEMPLE **, 11c.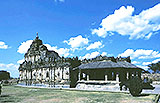 A large number of temples from the Chalukyan dynasty are scattered around the city of Gadag. Although most of them belong to Hinduism, the largest one among the 17 temples in the village of Lakkundi is Jain, the Brahma-Jinalaya Temple. Its open Mandapa is quite unique, being a wooden-like structure with long protruding eaves, which stands in front of the Southern-style temple. Its stone columns look as though they were shaped on a pottery wheel.
It is a one-day trip of 60 km from Gadag, including a famous Hindu temple in the village of Dambal.


---
BHATKAL ** (K) CHANDRANATHA BASTI *, 17- 18c.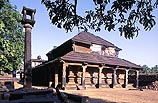 When coming from the north, the West Coast style of architecture emerges from around this town, 140km north of Mangalore. The buildings are surmounted with pitched roofs, since the location of this region between the Arabian Sea and the Western Gats mountains brings plenty of precipitation. Further south, one can find wooden houses in Kerala State.
The Chandranatha Basti (temple) is comprised of a line of shrines with a Stambha (commemorative pillar) in the forefront, but with few sculpture, in contrast to nearby Hindu temples.


---
KARKAL ** (K) CHATURMUKHA BASTI **, 16c.
TEMPLE TOWN AT HIRIYANGADI *, (+S) since 14c.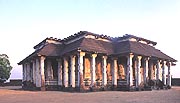 On the hill near the town of Karkal stands a Chatrumukha (four faced) temple, in the center of which three statues of Tirthankara are enshrined facing out on each of the four sides, amounting to twelve statues in total. On the opposite hill stands the 13m high monolithic statue of Gommateshwara that was sculpted in 1432. In the nearby district of Hiriyangadi, a Jaina temple-town has been formed around a magnificent Mana-stambha. It lies 17km north of Mudabidri.


---
MUDABIDRI *** (K)
CHANDRANATHA BASTI ***, (+S) 15c.
JAINA TOMBS *, 19c.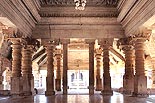 Mudabidri is the center of Jainism in this region, containing numerous temples besides the Chandranatha Basti. Each temple has its own Mana-stambha in line with others along the temple-town street. There is also a group of peculiar tombs of Jain priests, which resemble Nepalese pagodas in shape, on the outskirts of the town.
Mudabidri is 35km from Mangalore. Thanks to the convenient bus connections in this region, one can easily visit there on a one-day trip along with Karkal.

** See Chapter 4 for details of Jaina Cave Temples at Ellora.
---
VENUR (YENUR) * (K) SHANTISHWARA BASTI *, (+S) 15c.
Venur is in the mountains 25km east of Mudabidri. Though 24 black marble statues of Tirthankaras are enshrined inside of the Shantishwara basti, the outside statue of Gommateshwara from the 17th century is more famous. However, it is much inferior to those of Shravanabelgola and Karkal in both size and ingenuity.


---
GURUVAYANKERI * (K) SHANTISHWARA BASTI *, (+S) 12c.

There is a unique towering building along with plenty of shrines covered with tiled roofs in the precinct of this Jain temple, Shantishwara Basti. Fergusson depicted this as a five-pillared shrine, and yet the central pillar is actually the Brahmadeva-stambha. I wonder if this was an especially important Stambha, as it looks as though it was later surrounded by four pillars and roofed in multiple layers, figuring eventually a grand building.
The temple is in the suburbs of Guruvayankeri about 20km from Venur.


---
HALEBID *** (K) JAINA BASTIS *, (+S) 12c.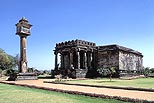 Halebid is quite famous for the Hindu Hoysaleshwara Temple with a flood of excellent sculptures on its walls, and yet there are three Jain temples a short distance from it. They have few sculptures on the outer walls, preserving an older plain style. Their interiors have forest-like columns carved as though made with a turning lathe, and each enshrins a statue of Tirthankara made of black marble at the back.
It is 90km's journey including Halebid and Belur from Hassan, which is the lodging base for this architecturally fertile region.


---
SHRAVANABELGOLA ** (K) JAINA BASTIS **, (+S) 10- 12c.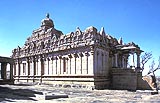 Shravanabelgola is the most important sacred place for Jainism in southern India. Two rocky hills face each other across an extensive square water tank. On Vindhyagiri Hill in the south stands a huge monolithic statue of Gommateshwara, carved in 981, which is celebrated splendidly in a great festival every 12 years; the most recent was held in 2006.
Concerning temple architecture, Chandragiri Hill in the north is more important, showing the Southern-style temples along with a graceful Mana-stambha. The site is 50km south of Hassan.

** See Chapter 4 for details of Jaina Cave Temples at Ellora.
---
KAMBADAHALLI ** (K) PANCHAKUTA BASTI **, (+S) 10c.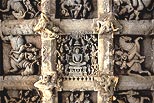 This temple is interesting in its composition consisting of five (panch) shrines, from which the name Panchakuta Basti is derived. When going through the main gate, one encounters two shrines facing each other, behind which the other three emerge sharing a central Mandapa. Each shrine has a very similar external appearance in the Southern-style, with each enshrining its own statue of a Tirthankara.
There is one more shrine before the main gate, the Shantinatha Temple, which retains a group of delicately carved sculptures on the ceiling. Kambadahalli can be visited together with Shravanabelgola in a one-day trip of 140 km from Hassan.


---
KANCHIPURAM *** (T) VARDHAMANA BASTI *, (+G) since 12c.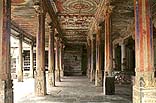 Kanchipuram (often abbreviated as 'Kanchi'), 70km southwest of Chennai (formerly Madras), is well known as an ancient city with abundant Hindu temples. Across the river in the village of Tiruparuttikunram, also referred to as Jina-Kanchi, there is a Jaina temple that retains a series of brightly colored ceiling paintings from the 17th century at its open Mandapa. They depict various scenes from the stories of the Tirthankaras.


---
TIRUMALAI * (T) TEMPLES AND SCULPTURES *, (+G) 11- 13c.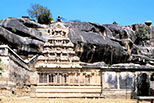 Jain temples, caves, and statues of Tirthankaras lie scattered around a rocky hill in the tranquil village of Tirumalai. Beyond a Gopra (temple gateway) there are two temples, which are rare examples of the Dravidian Style for Jain temples. Wall paintings also remain in the caves behind them.
Tirumalai sits 15km from Polur, which is between Vellore and Tiruvannamalai, but few people know of it.


---
SITTANNAVASAL * (T) CAVE TEMPLE *, 7- 9c.

This is a small cave temple with a statue of Tirthankara, but it is the ancient ceiling paintings that make this place quite notable, though surface flaking has regrettably done a fair amount of damage. The style of the paintings resembles that of Ajanta's wall paintings. They depict Apsarases (celestial nymphs), fish, birds, lotus ponds, etc., as if to present the whole cave as a Jain Paradise.
Sittannavasal means the dwelling of a Siddha (enlightened ascetic). It is 15km from Pudukkottai, forming a one-day trip together with Narttamalai.


---
KALUGUMALAI ** (T) ROCK FIGURES*, 8- 9c.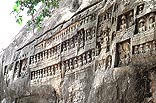 On the top of a rocky mountain, there is an uncompleted rock-carved Hindu temple with numerous Jaina reliefs of Tirthankaras on the rock surface a short distance from it. It is a peaceful sight of different religions coexisting on friendly terms without destroying each other. Kalugumalai is nearly 60km north of Tirunelveli, in the verdant rural landscape characteristic to South India.