Seeing frequent religious disputes and conflicts in the world in the newspapers, most people are apt to suppose every religion is a mass of dogmas that cannot help dragging people into battles. It would have been difficult to recognize the existence of a religion of atheism, of absolute 'non violence' toward even an insect, of relativism which contradicts intolerant dogmas, and yet of deliverance from worldly bondage by voluntary death by fast.
However, after having read the preceding chapters along with seeing many photos on this site, undoubtedly one would come to know the actual existence of such a religion: Jainism. In order to corroborate that more, I'm introducing here Jain sacred places (Tirthas) for pilgrimage, dividing them into two chapters of Northern and Southern India.
The primary meaning of 'Tirtha' is a 'fording place.' It came to indicate a holy place or a pilgrimage site as an entrance to the eternal world from the mutable uncertain world, and the person who conducts people at a Tirtha and carries them across the river is a 'Tirthankara' (savior of the soul).
There are innumerable Jain Tirthas, for a place can be called a Tirtha if there is a temple there. A book entitled "Shree 108 Jain Tirtha Darchanawali" presents 108 Jain sacred places, but it is a mixture of high and low quality temples from the architectural point of view. Looking at those temples' photos, one can clearly know that every sacred religious spot necessarily has a piece of architecture to be appreciated.
Hereupon I have selected fourty-eight architecturally valuable spots among the Tirthas I have visited, presenting their temples in two chapters that take on the Northern area and Southern area respectively. Since I have already introduced principal Tirthas in the previous chapters, I will not spend a large amount of space here despite their importance but put them in the same level as others.
Nevertheless, that way might not let readers discern easily each temple's degree of importance and might be unkind for people who actually travel in India. Therefore I classify every Tirthas and their temples according to the 'grade of architectural attractiveness,' granting them one to four stars like the Michelin's guidebooks. As I don't intend to say only Jain temples are splendid in the architectural tour of India, the number of stars granted to a place name is the overall appraisal in considering other religions' legacies too.
Although an explanation of each temple is short owing to limitations of space, I will write how to get there wherever practicable. The Tirthas are disposed in the geographical order from the east to west and the north to south. The letters after the place name in parentheses such as (WB) show the abbreviation of the state it is located in (vide the Map). The marks after the temple name, (+S), (+T), (+G) show respectively being attached by a Stambha (monumental pillar), a Torana (gateway resembling Japanese 'Tori-i'), and a Gopura (temple gateway in South India).
CALCUTTA ** (WB)

SITHALANATHA TEMPLE *, 1867
Because Calcutta (now Kolkata) was developed during the age of British rule, it does not hold as many old buildings. There are two Jain temples belonging to the Digambara (Sky-clad) sect and the Shvetambara (White-clad) sect, respectively. The latter is architecturally more valuable to visit: the Sithalanatha Temple standing in a European style garden. The interior of this early modern temple is garishly embellished with glass and mirror mosaics, which gives a slight impression of wealth being flaunted.


---
VAISHALI * (B) MEMORIAL OF MAHAVIRA, 20c.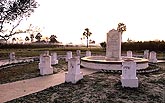 The state of Bihar is the region where Buddhism and Jainism were born and the trails of the lives of Buddha and Mahavira overlapped each other here. Though they were contemporaneous, they did not seem to have met. Vaishali is not only one of the holiest places for Buddhism, but also for Jainism as it is, Mahvira's birthplace. Even though there are no ancient remains, a stone monument has been built at Kundalpur.
Many guidebooks state that the village is 40km from Patna, whereas it is actually 80km, taking two hours by car.


---
PAWAPURI * (B) JAL MANDIR *, 19c.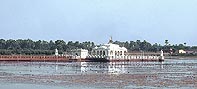 Pawapuri, often abbreviated to Pawa, is the sacred place of Mahavira's Nirvana, meaning he died here after touring over numerous districts. It is about 25km from the ruins of the ancient 'Buddhist University' of Nalanda. The Jal Mandir, the memorial temple made of white marble, stands in the middle of a large water tank. One approaches the Jal Mandir by crossing a bridge, like at the Golden Temple (the head temple of Sikhism) in Amritsar. Like Sikh temples, the Jal Madir was strongly influenced by Islamic architecture, especially palace architecture of the Mughal Empire. The year of construction is not clear, but it seems to have been erected in the 19th century.


---
PARASNATH HILL * (B) JAINA TEMPLE CITY *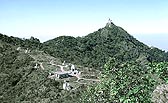 Parasnath Hill, also called Sammeta-shikhara, is one of the preeminent sacred places of Jainism. Numerous legends, including those in which many Thirthankaras (Jinas) attained Nirvana, originated here. The name is derived from one of those Jinas, Pashvanatha. Although temples lie scattered on the ridges, they were wholly built in modern times, possessing lower importance from the architectural point of view.
One can reach there on the way from Calcutta to Gaya by train, taking a car at Parasnath Station to the foot of the hill. It is two days' journey including a one-night stay. As lodging and eating are quite inconvenient, one should be ready for a tough tour. It is possible to hire a 'dooli' or a simple palanquin to mount the hill.


---
KHANDAGIRI & UDAYAGIRI HILLS * (O) CAVE TEMPLES *, 1c. BCE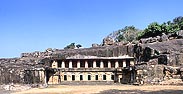 There are more than twenty cave temples in the two hills opposite each other across a road 6km from the State of Orissa's capital, Bhubaneshwar. Despite being modest it is, valuable as one of the earliest cave temple areas in India, proving that Jainism thrived in Orissa in ancient times. The most important cave is the Rani Gumpha (Cave 1) at Udayagiri (giri means hill), the walls of which have ancient reliefs that resemble those at Sanchi.


---
KHAJURAHO **** (MP) JAINA TEMPLES ***, 10- 11c.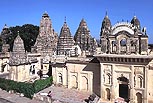 This is one of the most famous tourist sites in India. Most tourists go there by airplane from Agra or Varanasi due to the hardness of the long journey by train and bus connection. The town that thrived in the middle ages is now an isolated village. Only its magnificent temples, being full of sculptures, express the glory and prosperity of its bygone days. At a distance from the western Hindu group, the lower number of temples in the east composes the Jain group.

** See Chapter 3 for details of Khajuraho temples.
---
KUNDARPUR * (MP) JAINA TEMPLE CITY *, (+S) 18- 20c.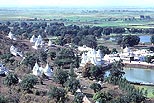 The beginning of the erection of these temples seems to go back to the 8th century, but most of the existing temples were built in or after the 18th century. The view of whitewashed temples on the hill and around the ponds at the foot is quite picturesque, even if their architectural quality is not so high. The site is 140km south of Khajuraho and is two days' travel combined with Nachna and Tigawa.


---
GWALIOR *** (MP) JAINA ROCK FIGURES *, 7- 15c.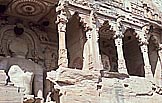 The entire hill soaring over the town of Gwalior comprises a mediaeval fort. There remain many temples and palaces but not a single Jain temple. At several rock walls of the hill, numerous statues of Tirthankara were carved out instead. The largest one reaches 19m in height and most of the statues are architecturally framed with columns and beams chiseled out of the rock.


---
SONAGIRI HILL ** (MP) JAINA TEMPLE CITY *, (+S) since 16c.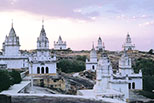 One can see a fantastic sight of a hill with a series of whitewashed temples on the right side from windows of a southbound train about 60km from Gwalior. It is suitable to be called a 'temple city' due to the conglomeration of close to 100 temples. Although its origin goes back very far, most of today's temples were constructed in modern times under strong influences of Islamic architecture.
It is recommended to stay one night in the nearby town of Jansi and visit here together with the fort-palaces of Datia and Orchha.


---
DEOGARH ** (UP) JAINA TEMPLE CITY **, (+S) 9- 10c.

When going 32km by car southwest from Lalitpul Station, which is about 100km south of Jansi, one finds a 6th century Hindu temple and a group of Jaina temples on the nearby hill. While that Hindu temple is embellished with fine sculptures of Vishnu and others on the walls, Jain temples exhibit a great many typical statues of Thirthankaras. This demonstrates clearly the difference between the two religions.


---
SANGANER * (R) DIGAMBARA TEMPLE **, 15c.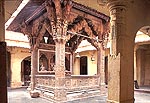 There is a quite small but high-quality temple in the old town of Sanganer, 11km south of Jaipur. The distribution of spaces in the precinct is unique; one goes up a flight of stairs to a small forecourt surrounded with colonnades, then passes through an elaborately chiseled portal into a small courtyard again surrounded with colonnades, in the center of which stands an open shrine. This brilliant shrine of white marble has statues of Tirthankaras enshrined at the back wall and carving of a villager–like person on each bracket under the eaves.


---
BIKANER ** (R) PARSHVANATHA TEMPLE **,
NEMINATHA TEMPLE, 16c.

Bikaner, the capital of the former Rajput principality of the same name, holds an interesting old town, a part of which is a temple area. Every Jaina temple is painted colorfully inside and the walls are adorned with painted images. In particular, the Garbhagriha (main sanctuary) of the Parshvanatha Temple features an unparalleled gorgeous interior with columns and pedestals decorated with glass, gold, and colored stone mosaics, which encircle the statue of Chatrumukha (four-faced) Tirthankara.


---
JAISALMER **** (R) JAINA TEMPLES **, (+T) 15c.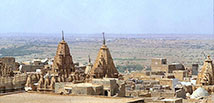 After ten hours' ride on a night train from Jodhpur, one suddenly finds a wondrous medieval city right in the midst of a vast desert; this is Jaialmer. There is a group of seven Jaina temples in the citadel and also two brilliant temples in the desert away from the town. Together with palaces, havelis (mansions), a fort in the city and tomb gardens in the suburbs, Jaisalmer provides a first-class itinerary that is worth visiting at least once in life for any architect.

** See Chapter 5 for details of Jaina temples in Jaisalmer.
---
OSIAN ** (R) MAHAVIRA TEMPLE **, (+T) 11c.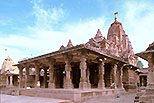 Osian is an important place in the history of Indian architecture due to many Hindu temples of the 8th-9th centuries. A slightly later legacy is the Mahavira Temple of Jainism, the precinct of which has recently regained a sense of order through restoration works. Delicate carvings are seen not only on the main temple but also on the small surrounding shrines.
Osian lies 65km north of Jodhpur, from which it is possible to visit in one day together with Balasmand and Mandor, which are on the way.


---
VARKANA * (R) PARSHVANATHA TEMPLE **, 15c.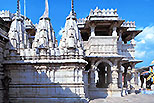 This temple stands in Varkana, a quiet town 8km by car from Rani Station on the railroad htat goes from Jaipur to Abu-Road. Though not so large, every part is made quite accurately with white marble except for the elephant sculptures on both sides of the gate, which are childishly painted. The long passage to reach the principal statue of Jina was impressive and it was pleasant to be guided around every nook and cranny by local followers.


---
RANAKPUR **** (R) ADINATHA TEMPLE ****, 15c.

In spite of its location in the depths of the mountains rather than in a town or village, Ranakpur, also called Ranpur, possesses the most superior masterwork not only of Jaina temples but also all of Indian architecture: the Adinatha Temple.
It takes 1.5 hours by bus from Falna Station on the railroad from Mt Abu, or one can arrive there in the early afternoon by catching an early morning bus in Udaipur. Now that there is a tourist bungalow operated by the state government, accommodation is not a problem.
Other than the main temple, there are three small contemporaneous temples that are embellished with carvings in the same manner.

** See Chapter 6 for details of Adinatha Temple in Ranakpur.
---
CHITORGARH *** (R) KIRTI STAMBHA ***, since 13c.

The entire long and narrow hill soaring over the Chitorgarh plain comprises the remains of a castle, the site of a fabulous tragedy of a Rajput Clan. Since temples, palaces, and towers lie scattered around the area, visitors will not get tired of strolling for a whole day. Other than the Kirrti Stambha, there are the Satbis Deori Temple from the 15th century and the small Shringara Chauri Temple (1456), both of which are Jain. It takes 3.5 hours by bus from Udaipur.

** See Chapter 3 for details of Kirti Stambha in Chitorgarh.
---
RIKHABDEV * (R) ADINATHA TEMPLE *, 17c.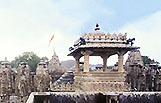 There are a lot of old temples that serve as lively pilgrimage places rather than cultural heritages in India. This temple is one of them and its approach is flanked with lines of shops like the Sensoji Temple in Asakusa, Japan. The Adinatha temple itself also has many additions, which are eyesores for architects.
It is about 40km from Dungarpur, southward of Udaipur. Unfortunately, when visiting here, it rained; moreover, it was prohibited to take pictures inside.


---
Mt. ABU **** (R) DELWARA TEMPLES ***, since 11c.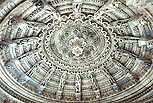 These are the most famous Jaina temples and the subtlety of their abundant stone carvings is beyond description. It can be said that one cannot use the word 'splendid' before seeing the Delwara Temples. To get there, one ascends 27km up the mountain by bus or taxi from Abu-Road Station on the railway. There are a lot of hotels, since the town was developed as a hill station (summer resort) in the age of British colonialism. The temple compound is in a calm area a further 5km by car, toward which recent sprawl of the town is advancing. Photography is now prohibited in the precinct.

** See Chapter 1 for details of Delwara Temples on Mt. Abu.
---
KUMBARIA *** (G)

MAHAVIRA TEMPLE **, 1062
SHANTINATHA TEMPLE **, 1082
PARSHVANATHA TEMPLE **, 1105
NEMINATHA TEMPLE **, 1134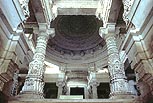 As there are many quarries of white marble in this region, it is said that the stones of the Delwara Temples on Mt. Abu were carried from here, Kumbaria. The fascinating interiors of the temples at Kumbaria were also wholly built of white marble. Their style is the same as that in Mt. Abu and one can trace the developing process of Jain temples in western India when making a tour of these temples in chronological order. It is particularly interesting to observe the process of achieving space-composition in -- and introducing light to -- the entrance, which are characteristic in Jain temples.
Kumbaria is 25km to the southeast of Abu-Road Station and one can reach Taranga further south by car.


---
TARANGA HILL ** (G) AJITANATHA TEMPLE **, 1166

Though this temple was whitewashed before, the recent restoration has revealed the beautiful grain of its stones. Its architecture shows the typical West Indian type in the Northern Style. Its shikhara (spire on the shrine) and walls are elaborately carved. Although the inteiror is also well ornamented, the architect's energy seems to have been poured into the outside rather than the inside, differing from many other Jain temples in western India.
It stands in the still mountains, 55km from both Kumbaria and Sidhpur.


---
ABHAPUR ** (G) LAKHENA TEMPLE **, 16c.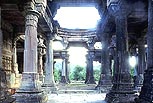 Driving 40km northeast from Idar, 60km south of Kumbaria, one finds a Hindu Sarneshwara temple, from which one must proceed under a villager's guidance to reach this Jain Lakhena temple. It is not easy to visit the temple, which is now not in use but quite attractive for people who are fond of the beauty of ruins. Its atmosphere resembles those of Romanesque churches in the deep mountains of the Pyrenees or Alps in Europe.


---
PATAN ** (G) PARSHVANATHA TEMPLE *, 18c.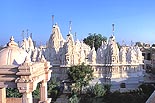 Pathan, which was the capital of the Solanki dynasty and called Anhilwada in the 11th and 12th centuries, is now only a small local town but known as the place of the largest stepwell in India. In the town also stands a Jain temple of well-arranged formation, though it is not so ancient. The Shikharas of the Parshvanatha Temple shine dazzlingly under the morning sunlight. It is about 35km from both Sidhpur and Modhera.


---
AHMADABAD ** (G) HATHISINGH TEMPLE **, (+S) 1848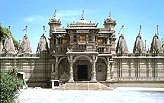 The capital of Gujarat State, Ahmadabad, is not only full of legacies of Islamic architecture but also possesses many Jain temples due to a good deal of Jain merchants who have taken a lively part in the city's economy since long ago. This temple, named for its patron, is the largest and is heir to the essence of craft and sculpture of the Solanki Revival. Recently, a Stambha was erected after the example in Chitorgarh; however, the level of craftsmanship has regrettably declined.


---
BHADRESHWAR * (G) MAHAVIRA TEMPLE*, 1248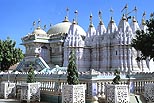 This is the original ancient temple in a small town that thrived as a trade port in ancient times. In spite of being a temple in a flat area, the attraction of this temple is its three-dimensional formation of space, where one goes up gradually many stairs to the inner sanctuary. If Islamic additions and various colors are removed, it will recover the pure Jain temple figure. Photography is prohibited inside. It is an 80km day trip from Bhuj.


---
Mt. SHATRUNJAYA *** (G) JAINA TEMPLE CITY ***, since 16c.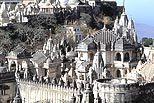 Staying in Palitana, 50km from Bhavnagar, one goes to the foot of the mountain at dawn. After a one and half hour ascent, one gets a breathtaking sight of the innumerable temples standing on the two ridges and the valley in between. It is one of the most astonishing and mysterious experiences in India.
People with weak legs can hire a 'dooli' (simple palanquin). There is now an office on the mountain to get a permit for photography. Though this site is not a tourist spot, there are a lot of large 'dharmashalas' (inns for pilgrims) in Palitana as it is the greatest Jaina pilgrimage place.

** See Chapter 5 for details of Jaina Temple city on Mt. Shatrunjaya.
---
JUNAGADH ** (G) BABAPYARA CAVE TEMPLE *, 2c.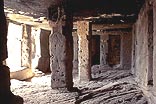 Junagadh, located 100km south of Rajkot, has a lot of historical legacies left over from remote ages to early modern times. Babapyara Cave is the oldest cave temple belonging to Jainism here, and was excavated in the quite primitive stage without any sculptures. Later Jain temples were all built on nearby Mt. Girnar, not in the city.


---
Mt. GIRNAR *** (G)

JAINA TEMPLE CITY ***, since 12c.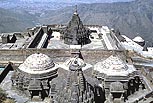 Going to the foot of Mt. Girnar at dawn from the city of Junagadh, one climbs 4,500 stone steps up the cliff face. It takes more than two hours, making one's knees wobbly. One can hire a 'dooli,' but they are expensive here.
Intending to climb up during the cool morning, I went there at eight o'clock, but surprisingly, pilgrims who had climbed up in complete darkness were already descending one after another. The temple city on the mountain becomes absolutely silent at noon, as if it were a ghost town.

** See Chapter 5 for details of Jaina Temple city on Mt. Girnar.