In accordance with Le Corbusierfs wins in important international competitions and publishing his theories about architecture and urbanism, the demand for knowing fully about his total works augmented, and in 1929, when he was 42 years old, his eOeuvre Complètef of his works in collaboration with Pierre Jeanneret for 20 years was published by the editorship of young W. Boesiger. Since this book gained strong support from architects and students around the world, who yearned for emodern architecturef, its continuations would be published every four to eight years. The contents until the middle of the 4th volume are works of joint signature with Pierre Jeanneret and those after that are Le Corbusierfs solo works, and the last volume, the eighth, contains his posthumous works after 1965.
These 8 volumes are the most fundamental materials above all things in order to research Le Corbusierfs long and encompassing activities. The project of Chandigarh is chronologically reported in detail in the fifth to eighth volumes.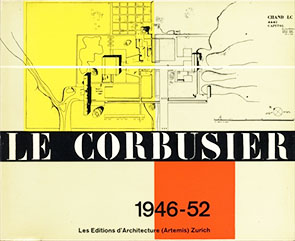 The fifth volume of Le Corbusier Oeuvre Complète, 1946-52.
The project of Chandigarh was reported in detail for the first time.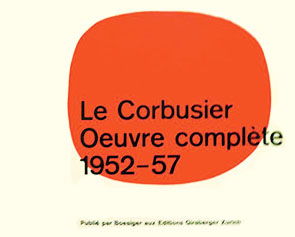 The sixth volume of Le Corbusier Oeuvre Complète, 1952-57,
including the second report of the projedct of Chandigarh.
The seventh volume of Le Corbusier Oeuvre Complète, 1957-65,
including the third report of Chandigarh.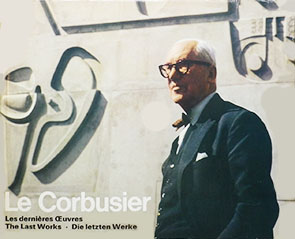 The eighth volume of Le Corbusier Oeuvre Complète, published in 1970,
on his posthumous works including the last report of Chandigarh.

When these oblong books are opened, their width is 2.4 times as large as the height, exactly 23cm x 56cm, being hard to handle. The reason of this inconvenience would have come from the fourth point of Le Corbusierfs 'les 5 points d'une architecture nouvelle', that is the horizontal window (typically seen in the Villa Savoye), which came to be possible by the progress of reinforced concrete. He insisted that, as human eyes are in side by side, a horizontal window is more suitable for men than a vertical one. He probably also applied this theory to his book design, which many modern architects followed when publishing the collections of their works, such as Marcel Breuer, Richard Neutra, Alvar Aalto, and so on, with all books in the same size and form.